Free lung capacity testing in centres around the country to mark World Spirometry Day on Wednesday, 27th June
Friday, 22nd June, 2012: Olympic champion Dr. Ronnie Delany and eleven leading Irish lung health charities and patient advocacy groups have joined forces to urge the public to take a simple, fast and accurate test to measure their lung health.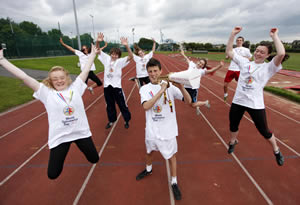 The 'Love your Lungs' campaign aims to encourage people to get their lungs tested, particularly if they have symptoms such as shortness of breath, persistent cough or wheeze. Testing can provide an early indication of diseases such as asthma, lung fibrosis, and chronic obstructive pulmonary disease (COPD). Early detection of these diseases can greatly improve outcomes and quality of life for patients. To mark World Spirometry Day on the 27th June hospitals in Dublin, Cork, Waterford, Limerick, Clare, Sligo, Mayo and Mullingar will be offering the free lung test called spirometry. There will also be a mobile unit at the top of Grafton St. in Dublin city centre. For further details on venues click here
Lung disease causes one in five deaths in Ireland each year and deaths from lung disease exceed those from heart disease and are almost equal to those from non-respiratory cancer. It is the most common reason to visit a GP and the third most common reason for acute hospital admission. However, many lung diseases are diagnosed late which makes them much more difficult to treat. Identifying lung disease early is very important and can be done with simple spirometry testing.
"Spirometry is a simple and painless test that takes just a few minutes," said Dr Edward McKone, President of the Irish Thoracic Society. "The good news is that once detected, lung diseases such as COPD and asthma are very treatable. Early diagnosis and treatment of lung disease is crucial, leading to improved symptoms and quality of life for patients as well as avoiding further irreversible lung damage. It's also important to remember that many lung diseases can be prevented by keeping your lungs healthy through not smoking and staying active," he said.
Encouraging people to improve their lung health through exercise, Dr. Ronnie Delany, Ambassador to the 'Love your Lungs' campaign said "This Olympic Year is a perfect opportunity to draw attention to the fact that regular physical activity helps boost lung health. People with lung conditions often fear that exercise will make breathlessness worse but regular physical exercise is proven to improve quality of life and fitness including for those with lung conditions.
For further details visit www.lunghealth.ie
The 'Love your Lungs' campaign is being promoted by The Irish Lung Health Alliance, which represents eleven leading Irish lung health charities and patient advocacy groups including; the Alpha One Foundation, the Irish Thoracic Society, the Asthma Society of Ireland, the Irish Cancer Society, the Cystic Fibrosis Association of Ireland, the Irish Lung Fibrosis Association, Ben Bulben COPD Support Group, the Irish Sleep Apnoea Trust, the Irish Sarcoidosis Network, the Irish Association of Respiratory Scientists and the Respiratory Nurses Association of Ireland.
The campaign is supported by Novartis and Boehringer Ingelheim.
---
Spirometry – the gold standard in lung testing
In the same way that blood pressure measurements provide a simple yet effective screening method for cardiovascular disease, spirometry tests can help to unmask the early symptoms of a variety of lung diseases before any more obvious signs appear.
It is a quick, simple and non-invasive method to test lung function. It measures the amount and speed of air that can be inhaled and exhaled by the lungs.
Spirometry is used to diagnose and monitor patients with lung disease. It helps assess asthma, cystic fibrosis and chronic obstructive pulmonary disease (COPD).
---
Dr Ronnie Delany, Ambassador for the 'Love your Lungs' Campaign
Dr Delany's sporting achievements make him a perfect embodiment of the link between good lung function and athleticism. He won a gold medal for Ireland in the 1500m in the 1956 Olympics in Melbourne. He then went on to win an unprecedented and unsurpassed 40 straight victories 'indoors' in America from 1956 to 1959. He became one of the first 'Four Minute' Milers in Compton, California in June 1956 and was the 'Indoor Mile' World Record Holder from 1958 to 1962. Dr Delany was the first Irishman to win a medal in the European Championships 1500m in Stockholm in 1958. Dr Delany has been recognized for his achievements by the Royal College of Surgeons in Ireland with an Honorary Fellowship.